Fear of opioid crisis in Europe
Comments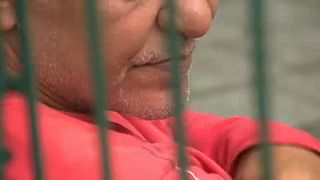 Cocaine continues to occupy a sadly prominent position in the world of drugs.
And in this center that takes care of drug addicts in Brussels, the consequences are well known.
Suleiman began taking drugs ten years ago, after an accident at work. Now cocaine has trapped him.
"Cocaine is difficult. Once you take it, it is very difficult to stop. It has destroyed me, it keeps destroying me, all my money has gone like this".
In this transit centre, drug addicts can rest, eat, in some cases even sleep... and also get material to reduce the health risks with the distribution of syringes, for example.
And here the conclusions are the same.
"We have observed that 41 percent of patients declare using cocaine or crack exclusively. It has been increasing for two or three years", said Bruno Valkeneers, the communication director of the transit centre.
According to a study (by the European Observatory of Drugs and Drug Addiction), 2.3 million young adults (between 15 and 34 years old) used cocaine last year.
The most consumed drug is still cannabis, with 17.2 million young consumers.
But the new dangers come from synthetic drugs. Last year alone, 51 new psychoactive substances have been detected.
Experts say, Europe must prepare for the landing of fentanyl, an synthetic opioid 50 times stronger than heroin.
"That's the problem with a street drug, you never know what you're consuming and when street drugs are cut off with fentanyl, it drastically increases the risk of a fatal overdose for the consumer", said Sebastien Alexandre, a Brussels-based drug expert.
The number of overdoses within the European Union has been on the rise for five years. Last year, 9,000 people died - and experts fear a health crisis.