[watch] Synthetic cannabis turning drug users into zombies
Comments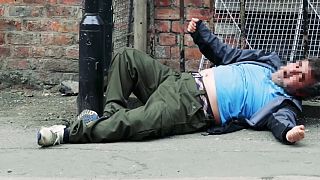 A factory-made cannabis substitute called Spice is causing havoc on the streets of Manchester, north west England, leaving users resembling zombies.
Piccadilly Gardens and nearby areas are said to be littered with people lying in the streets in a stupefied state. Often they are found frozen to the spot for hours or slumped against walls.
Spice was once what was called a "legal high" sold over the counter. But since being made illegal new more powerful strains have come onto the market.
Because synthetic cannabinoids react more strongly with the brain's cannabis receptors, they're more potent than natural cannabis. This means it's easier to use too much and experience unpleasant and harmful effects.
Julie Boyle, from the Homeless charity Life Share, says the effect on users is marked.
Speaking to the BBC, she said: "We have got people begging who have never begged before.
"We have got people who are forced into the sex [industry] who would not have dreamed of it before.
"But in order to maintain that habit, that's the path that they have gone down."
The emergency services appear to be fighting a losing battle to keep a lid on the problem.
Operation Mandera, a police crackdown on drugs in the area has had little effect on the issue.
Synthetic Cannabinoids
What are synthetic cannabinoids?: Synthetic cannabinoids are chemicals that have been developed to act like the main psychoactive chemical in cannabis, tetrahydrocannabinol (THC) which acts on cannabis receptors in the brain.
What are the effects of synthetic cannabinoids?:
Feeling happy, euphoric. Some become very talkative while others drowsy. Some people experience paranoia, panic attacks and forgetfulness
Reported side effects:
Mood swings; anxiety; suicidal thoughts; memory problems; nausea; vomiting; seizures and fits.