NATO to bolster defences
Comments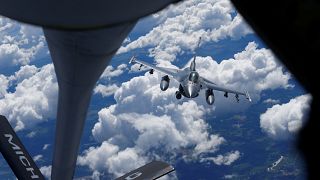 Copyright

REUTERS/Ints Kalnins
NATO's brand new Brussels HQ is to host a meeting of Defence Ministers for the first time on 7th June. The US Secretary of Defence - Jim Mattis will try to get NATO to have more soldiers, planes and ships ready for combat within a month in case of a Russian attack. This would compliment existing rapid reaction measures.
NATO Director General Jens Stoltenberg announced:
"Allies would, by 2020, have: 30 mechanised battalions; 30 air squadrons; and 30 combat vessels, ready within 30 days or less. This is not about setting up or deploying new forces. It is about boosting the readiness of existing forces."
The US says the moves would counter ground attacks in the Baltics and Poland. NATO has recently conducted exercises with US marines in Lithuania.
Russian ambassador to the EU Vladimir Chizhov said all these preparations only contribute to tensions.
He rather ominously told reporters:
"This part of Europe, around the Baltic sea has a record of being the calmest of all European regions for many years. Evidently this is something that not everybody likes."
And while NATO planes begin patrolling the Montenegro skies, the ambassador also said Russia does not applaud the country's joining of NATO on 5th of June.