'Mapping Basilicata': Spreading the word about Italian expertise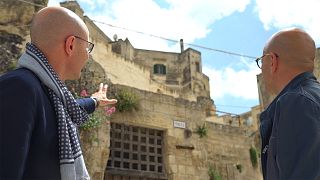 Francesco Paolicelli and Emanuele Cifarelli are craftsmen in the Basilicata region of southern Italy.
It is rich in traditions and know-how, but has struggled to market and export its goods.
Hence the EU-backed "Mapping Basilicata" project that the two men have been part of.
Some 100 firms from three sectors: food, fashion and furniture, participated in the project. It cost some 1,260,000 euros, half of which came from European Cohesion funds.
It is part of the overall Operational Programme 2007-2013 for Basilicata.
For "Mapping Basilicata", seven foreign designers spent 10 days in the area.
Inspired by the landscape, the light and ancient caves, known as 'Sassi', they gave their sketches and impressions of the city of Matera to seven local firms, who then put together a furniture collection.
"The couch is inspired by the 'Sassi' skyline," said Francesco, from 'Casamatera', describing an orange sofa decorated with small markings.
"It's just a very contrasting picture of the city profile. The doors and windows of the 'Sassi' appear on it."
Emanuele Cifarelli's firm, specialising in polystyrene derivatives, participated in three pieces in the collection, presented abroad to promote local expertise.
Presentations took place in the United Kingdom, Germany, the United States, Russia and Japan.
"Each piece of the collection was made by the seven local companies, directly or indirectly," said Emanuele, also part of 'Casamatera'.
"So this experience made me realise that if you want to achieve certain results, you need to work together with others."
'Casamatera' was born from this cooperation, one of three clusters of regional SMEs emerging from "Mapping Basilicata".
In a region where working alone was the norm, the collaborative project has now taken root. And with Matera one of next year's European Capitals of Culture, it's hoped this new spirit will get a further boost.