European leaders step up efforts to save Iran nuclear deal
Comments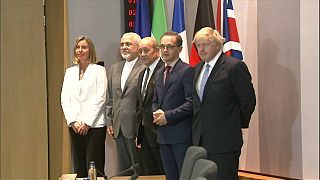 European leaders have set to work on keeping the Iran nuclear deal alive, following Donald Trump's decision to pull out of the Joint Comprehensive Plan of Action or JCPOA.
As a first step, the foreign ministers of Germany, France and Britain were in Brussels on Tuesday for talks with their Iranian counterpart.
''We have no illusions about Iran's disruptive behaviour,'' UK Foreign Secretary Boris Johnson said. ''But we think we can tackle those in other ways, outside the JCPOA."
The EU's foreign policy chief Federica Mogherini confirmed the parties agreed on a common set of actions.
"We reaffirmed together our resolve to continue to implement the nuclear deal in all its parts, in good faith and in a constructive atmosphere,'' she said. ''And we agreed to continue to consult intensively at all levels and also with other remaining participants to the joint commission to the JCPOA."
Iran's Foreign Minister Mohammad Javad Zarif said it remained to be seen if the five remaining signatories could deliver the benefits of the 2015 deal, which ended sanctions in return for Iran curbing its nuclear programme.
"We will have to see whether our remaining participants in the JCPOA can deliver those benefits to Iran,'' he said. ''We are starting a process - a process that needs to be very intensive - and we don't have a lot of time.''
On Wednesday night EU leaders are meeting in Sofia, Bulgaria and the Iranian deal will be at the top of their agenda.
The head of the bloc's executive, Jean-Claude Juncker of the European Commission, will also present options the leaders have to shield European investments in Iran and the slowly-reviving economic cooperation, which many EU states hope to benefit from.
These include protecting European companies dealing with Iran from U.S. sanctions, which in practice would be very difficult, allowing the European Investment Bank to invest there and coordinating euro-denominated credit lines from EU states.