Brexit: fishing industry faces choppy waters
Comments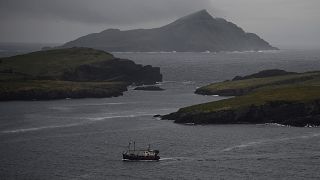 Fishing companies in the Netherlands fear choppy waters ahead, as the UK negotiates its future relationship with the EU post-Brexit.
Dutch trawlers cast their nets in English waters and, if they lose access, it could have a massive hit on their revenues.
In Harlingen, in the northern Netherlands, fishing boat crews come and go – spending a week at sea each time before coming back to port with the fruits of their labour.
"It's not good for the future"
Tromp van Slooten helps run a family fishing business, Prince Willem BV. He's concerned they'll be forced to go to other waters.
"Now they are leaving English waters, with Brexit, and they are coming to Dutch and German waters, so there is a lot of fishery in one place," he told Euronews.
"And it's not good for the whole fishery, you know. I don't think it's the right way that they say, we do Brexit and leave our waters. I think it's not good for the future."
Urk: a town reliant on fish
Tromp's catches are taken by road to a market in Urk, a town 90 minutes away. Fish is the lifeblood of its economy. The fish are sorted, weighed and sold at auction.
Euronews' Damon Embling reported: "The fish market here is the beating heart of Urk. Around a third of Netherlands fish is bought and sold in this town and around 40 percent of that comes from UK waters."
Urk is a pretty coastal town. Symbols of its fishing heritage, its DNA, are everywhere you go – including an iconic flag, which features a fish. So many livelihoods depend on it.
"The worst-case scenario is that we have to close a lot of factories, that we have to scrap vessels, because British waters are very important for us. If the situation arises that we can't fish any more, over there, that will be a disaster," said Geert Meun, from the Visned fishing association.
"There are a lot of questions"
With less than a year to go before Brexit, fishing companies say they've been left in paralysing limbo.
Andreas De Boer, Manager of Osprey Trawlers, commented: "There are a lot of questions, but they are still all unanswered."
A wider EU issue
Urk is not alone, other fishing towns in the Netherlands face the same dilemma. As do other EU countries. But there is some optimism.
"From Spain to Sweden, and Ireland to Germany, they are all fishing in British waters," explained Gerard van Balsfoort, Chairman of the European Fisheries Alliance.
"In the end I think we will have an outcome and we end up as close as possible to what we have now: status quo, shared stocks, shared markets."
The EU's Brexit negotiator has said there's a "mutual interest" in finding a "balanced" agreement for fisheries. But choppy waters may still lie ahead.