UK-Russia: Could tensions further escalate over poisoning?
Comments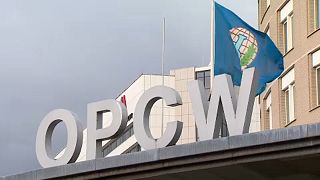 After Russia failed to get a joint investigation with Britain into the nerve-agent poisoning of a former spy and his daughter, there's a warning tensions could further increase between London and Moscow.
The inquiry push won six votes from the 41-members of the global chemical weapons watchdog, the OPCW.
But Russia's envoy highlighted that 17 countries abstained, saying it showed more than half didn't agree with the UK blaming Moscow for the attack.
"We presented to the executive council for judgement, our draft resolution with Iran and China to launch a joint Russian-British investigation. In response we saw murky waves of lies, mixed with Russiaphobia," Alexander Shulgin, Russia's OPCW envoy, told reporters.
With Moscow denying any involvement in what happened to Sergei and Yulia Skripal in the English city of Salisbury, the diplomatic fallout is huge.
"Russia is by no means positioning itself to back down and in someway to accept responsibility for this, instead it is seeking the highest possible ways to question its responsibility, to question the British assertions," said Kristine Berzina from the German Marshall Fund of the US.
"And so instead I think you see this the tension getting ever higher but we're still in the diplomatic round. So this is not something over which anyone is shooting a rocket. But it is a very tense diplomatic situation at the moment."
British scientists have confirmed the toxin was Novichok, but they haven't established whether it was made in Russia.