Brexit: UK needs to "pick up the pace" of talks
Comments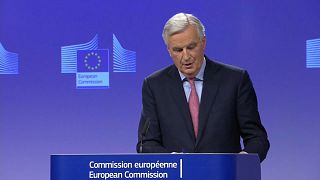 The EU's Brexit negotiator Michel Barnier has called on London to "pick up the pace" of talks if it wants a deal this year on a draft treaty unveiled in Brussels on Wednesday.
The European Commission has endorsed a first public draft for a withdrawal treaty which both sides hope can be agreed within the next eight months.
"If we wish to make a success of these negotiations...we must pick up the pace," Barnier told reporters.
Barnier also stressed that there remain "significant divergences" in talks on whether Britain might get a transition period after it leaves the EU 13 months from now.
Will the draft be accepted by the UK?
It is not clear yet. The draft is based on interim accords reached in December.
They are EU positions which Britain has yet to accept.
Are there any potential sticking points?
Yes. In particular, a protocol on how to avoid a disruptive "hard border" on the island of Ireland.
It foresees keeping Northern Ireland within the EU structures and rules.
Barnier stressed this is in line with the "backstop" agreed with Prime Minister Theresa May in December.
It could be superseded if Britain puts forward a detailed alternative solution.
Unionists in Northern Ireland have criticised the proposal as it could create fresh divisions between the British province and the rest of the UK. Theresa May relies on them for her slim parliamentary majority.
European Court of Justice
The draft treaty sees a joint EU-UK committee overseeing the arrangements but the European Court of Justice will remain the ultimate authority for resolving disputes.
When is the next round of talks due?
Next week, Barnier also said he would meet leaders from Northern Ireland early in the week.