Former EU chief Barroso in new lobbying row
Comments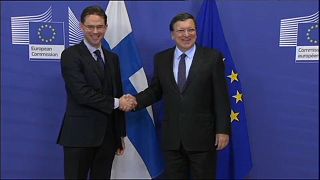 His hiring by US investment bank Goldman Sachs in 2016 caused uproar. Now, former European Commission President Jose Manuel Barroso is back in the spotlight again.
A letter has just been made public confirming that he met alone with current Commission Vice President Jyrki Katainen in a hotel in Brussels back in October, during which they "mostly discussed trade and defence matters."
"Twenty-four hours after this meeting, Vice President Katainen published, in accordance with procedures and transparency, details of this meeting," Margaritis Schinas, Chief Spokesperson for the European Commission, told reporters.
"This meeting took place 36 months after the departure of the former president, with the limit being 18 months at that time."
No documents relating to meeting
In the letter, to the Corporate Europe Observatory, which looks at lobbying, Katainen says: "I usually do not take notes in meetings and I did not do so at this meeting either. For these reasons, there are no documents regarding this event."
The Observatory says the way the meeting was held raises questions.
"President Juncker issued guidelines to every EU Commission employee, which obviously in our interpretation must include commissioners, that they must handle Barroso as a lobbyist," the Observatory's Margarida Silva told Euronews.
"And that means that you have to be careful about the reputation of the institutions when you do this. The way that Katainen did this meeting, we don't think it was very careful, meeting him in a hotel, alone."
A new ethical code of conduct came into force last month. It means outgoing European Commission members now have to wait two years - instead of 18 months - before taking up new employment.