MEPs express concern about Romania upheaval
Comments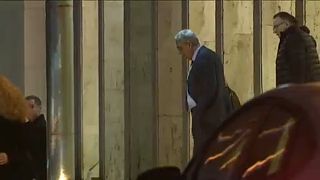 After just seven months in office, Romanian Prime Minister Mihai Tudose has stepped down.
The Social Democrat (PSD) was forced to resign when he lost the support of his party.
It's the second time since June that the PSD has ousted one of its own.
"Early elecrtions should be the best solution, because its clear that this party, which has almost majority in the parliament, does not care at all about the country. It's caring only about the conflicts and the sitation amont their members," said Marian-Jean Marinescu, a Romanian Member of the European Parliament and Vice President of the European People's Party.
Members of the European Green Party say the latest crisis is a symptom of Romania's larger problems -- and it's time for Europe to intervene.
"In Romania we have a severe situation around corruption," German MEP Ska Keller told euronews. "Also their anti-corruption law is more enabling corruption, this should not happen, we actually as Greens have proposed a debate on the issue of Romania inviting also the goverment, the prime minister has now resigned so let's see how this continues. But we can not turn a blind eye towards what's happening in our member states".
The Romanian government was forced to drop a controversial law last year after days of widespread protests. The law would have shielded many politicians from corruption charges.