Poland-Hungary: Show of solidarity in face of Brussels
Comments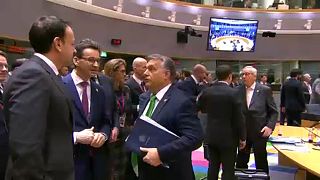 The meeting of the Polish and Hungarian prime ministers, Mateusz Morawiecki and Viktor Orban, in Budapest is significant.
It represents a show of solidarity, defiance maybe, in the face of Brussels, as Warsaw finds itself in an escalating stand-off with EU leaders.
Poland's recent judicial overhaul criticised as violating European values.
It is now facing an unprecedented sanctions procedure, which Budapest has condemned, vowing to block any moves.
"As you know the Commission always stands for dialogue, this is exactly what we do, this is the spirit that President Juncker also pursues when he invites Prime Minister Morawiecki to come to the EU Commission. And this visit is confirmed for the 9th of January," said Mina Andreeva, EU Commission Deputy Spokesperson.
Poland is not alone. Budapest's Viktor Orban's under fire over perceived authoritarian leanings, a squeezing of the opposition and the free media.
Controversial higher education laws have sparked protests at home.
There is criticism of NGO legislation and the treatment of immigrants. The EU's suing Hungary – and Poland – for not taking in asylum seekers.
Two countries representing two headaches for Brussels, heading into 2018.