What next for US-Mideast relations?
Comments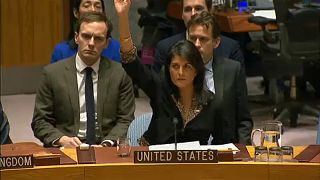 When President Donald Trump recognised Jerusalem this month as Israel's capital, it slapped decades of US policy in the face. And now America's move to block a UN Security Council call for the declaration to be withdrawn has left it further isolated.
But why all this now? And what does it mean for Middle East relations?
Euronews asked two voices: the Jerusalem Centre for Public Affairs in Jerusalem; and the Haaretz newspaper in Tel Aviv.
"The US was not going to listen to the United Nations, on where it puts its Embassy," said Lenny Ben-David, from the Jerusalem Center for Public Affairs.
"It is like telling France that they have to put their Embassy in Boston. The US has always dealt with Jerusalem. The US has always been an interlocutor, the mediator."
Journalist Gideon Levy, from Haaretz, added: "The United States voted yesterday for violation of the international law. It supported against it's own attitude, which is critical about the settlements.
"But the US said no, there is no international law; there is only our support to Israel, which will be automatically and blindly. And by this, the US showed to the world that Israel for the US is more important than maintaining justice or maintaining the international law."
Using some of his harshest rhetoric, Palestinian President Mahmoud Abbas has made it clear he'll no longer accept the US a Middle East mediator – saying a "crazy person" wouldn't accept such a role for Washington.