Venezuela: Call for EU sanctions ahead of human rights award
Comments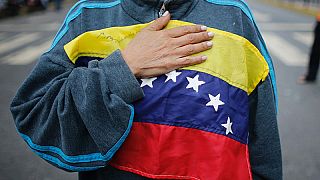 The EU's top human rights award will be officially presented to Venezuela's opposition and political prisoners on Wednesday.
The Sakharov Prize for Freedom of Thought comes after deadly anti-government demos in the country earlier this year.
Last month, Caracas Mayor Antonio Ledezma, an opponent of President Nicolas Maduro, escaped house arrest and made it to Spain.
Speaking to Euronews, he says the EU needs to hit Venezuela with sanctions.
"Canada and the US have made sanctions against individuals, and not against the whole country. They're meant to hit people in connection with drug trafficking, corruption and human rights violations. The EU too should follow this path," Ledezma stressed.
"But there has been a step forward with the EU's embargo on arms being used by the government of Nicolas Maduro to commit crimes against human rights."
Venezuela is in crisis, with deep splits between supporters of Maduro's socialist government and the opposition. The government rejects global criticism.
The Sakaharov prize – named after a Soviet scientist and dissident – is awarded annually. Last year, it was went to two Yazidi women who escaped the so-called Islamic State in Iraq.
Wednesday's ceremony will be held in Strasbourg.