What hope for peace in the Middle East?
Comments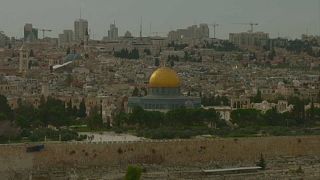 US President Donald Trump defied global oppostiion by recognising Jersualem as the capital of Israel. Israel's government rushed to congratulate Trump but the European Union has refused to follow the US lead. However, this setback did not stop Israeli Prime Minister Benyamin Netanyahu from praising the shift in US policy
"I think what President Trump has done is to put facts squarely on the table," he said. "Peace is based on reality, peace is based on recognizing reality."
Despite Netanyahu's optimism, the EU remains committed to a two-state solution for the region and holds the position that lands Israel has occupied since the 1967 war - including East Jerusalem as well as the West Bank and Golan Heights - are not within Israel's borders.
Marc Pierini of Carnegie Europe says the EU stance is no surprise to Israel.
"Israel is well aware the European position on a two-state solution and Jerusalem as the capital of those states," he explains. "This is a way for the Israelis to say 'wake up to today's reality and move on to other things'."
The US says it remains committed to bringing peace to the region, but new policies are need to revive a peace process frozen since 2014.
But even Israel's closest European allies say this latest US move will inflame violence and further wreck the chances of a peaceful solution. So what future role will the EU play in the region?
"If you want to know what the EU will do next," says Pierini, "the first question is to ask whether the union will survive?"
The Trump administration says it is currently working on a new peace proposal being drawn up by Middle East envoy Jason Greenblatt and Trump's son-in-law and senior adviser Jared Kushner.