Hezbollah leader vows to return focus to Israel at rally in Beirut
Comments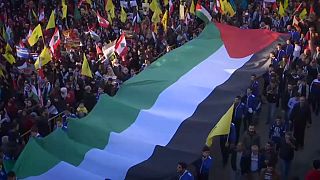 Tens of thousands of people have demonstrated at a Hezbollah rally in southern Beirut to protest US President Donald Trump's recognition of Jerusalem as the capital of Israel.
Carrying Lebanese and Palestinian flags as well as the militant group's yellow banners, men, women and children marched through streets chanting "Death to Isreal " and "Oh America, you are the Great Satan."
The rally, one of several large demonstrations recently held across the Middle East to protest the move by Trump, was called by Hezbollah leader Hassan Nasrallah.
At a fiery address broadcast to protesters from an undisclosed location, Nasrallah vowed to return Hezbollah's focus to the Palestinian cause after years of fighting in Syria's civil war.
He said he hoped the decision would mark the "beginning of the end" of the Jewish state and called on allies of the Iranian-backed militant group to put in place a united strategy "in the field" to confront Israel.