European leaders to Catalan separatists: Get lost
Comments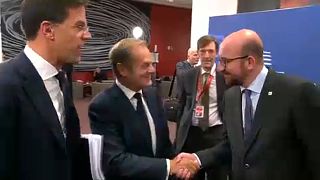 There was no support of Catalan independence from European leaders.
EU Council President Donald Tusk tweeted: "For EU nothing changes. Spain remains our only interlocutor. I hope the Spanish government favours force of argument, not argument of force."
Commission President Jean-Claude Juncker said it was important to avoid any splits and "fractures" in the European Union bloc, because there are already enough of them.
"I do not want a situation where, tomorrow, the European Union is made up of 95 different states", Juncker said.
French president Emmanuel Macron also said that he was fully supportive of Spanish Prime Minister Mariano Rajoy. "There is a rule of law in Spain with constitutional rules.
Mariano Rajoy wants these rules to be respected and he has my full support," Macron added.
In Berlin, Angela Merkel's spokesman Steffen Seibert said "The German government does not recognize such a declaration of independence", adding that Berlin supported the " clear position" of Rajoy in his bid to restore calm and order.
Charles Michel, the prime minister of Belgium, who faces Flemish separatism, tweeted: "A political crisis can only be solved through dialogue. We call for a peaceful solution with respect for national and international order."
Finally, Gianni Pittella, the head of the Socialist group in the European Parliament, tweeted: "On this sad day for Europe, we show our support and our solidarity with the Socialist Party in Spain and all the Spanish people."