Catalonia: 'No room' for EU mediation
Comments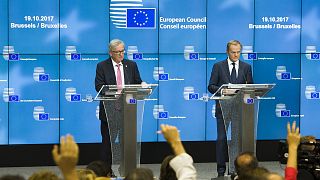 EU leaders will not step in to resolve the Catalonia crisis, European Council President Donald Tusk has told reporters at the end of day one of a two-day summit in Brussels.
He said that it was not on the agenda and did not expect to see any wide discussion or debate on the issue.
It's been threatening to overshadow the gathering of the bloc's leaders.
"There is no hiding that the situation in Spain is concerning. But our position, I mean institutions, Member States are clear there is no room, or space for any kind of mediation or international initiative or action," said Tusk.
Earlier, German Chancellor Angela Merkel said the EU was watching closely, while supporting the position of the Spanish government.
Madrid says it will suspend Catalonia's autonomy, as the region's leader threatens to go ahead with a formal declaration of independence.