Road to recovery? Mixed EU reaction to May's Brexit speech
Comments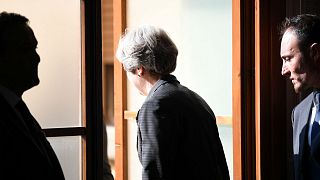 A big day for Britain, but the EU was also closely watching what Theresa May had to say in Florence about Brexit.
The prime minister attempted to re-set the tone of the stalled Brexit talks. But one official said it left him "even more concerned."
The Brussels think tank Bruegel says there are some positives to take away though.
"I'm reassured that a deal on the citizens rights will be achieved and rather quickly, there's good things about it on both sides of the Channel, I think that will be reached," said Maria Demertzis, Deputy Director of Bruegel.
"Northern Ireland comes into this, again I'm convinced that a good and satisfactory solution will be reached. And the other thing is that I have no doubt in my mind the UK will honour its agreements."
Europe's chief Brexit negotiator Michel Barnier says May's speech shows a "willingness to move forward."
In a statement, he added: "The United Kingdom recognises that no Member State will have to pay more or receive less because of Brexit. We stand ready to discuss the concrete implications of this pledge."
The size of the divorce bill is a sticky issue, something which May did not comment on.
"This is a very small issue compared to all of the other things that are big. The future relationship is much bigger, citizens rights are much bigger, these are the things that we need to spend our political time on," said Demertzis.
Euronews' Damon Embling reported from Brussels: "Theresa May will be hoping she's done enough with her speech to break the Brexit deadlock, to rescue the talks, to convince the EU that she's ready to seal a fair divorce deal.
"But key sticking points do remain. So, after all of the turbulence so far, will the ride ahead be any smoother? We should find out when the next round of negotiations kicks off next week."