Brexit: UK under pressure over Irish border
Comments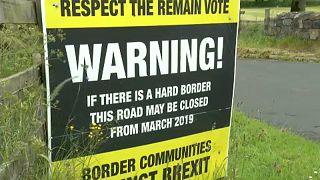 The European Parliament's Brexit chief is calling on the UK to come up with a solution to avoid new controls on the Irish border.
Guy Verhofstadt has been making his position clear during a visit to Northern Ireland and the Irish Republic.
Right now, there is a free flow of goods across the border, being an internal EU frontier. But when Brexit kicks in, it would become subject to customs regulation.
"It's for the UK to come forward with the unique solution for that problem, but I think that all solutions to avoid the border," said Verhofstadt.
"And we don't want that Ireland becomes a bargaining chip in the negotiations. That's not in the interest of Ireland and not in the interest of Europe."
The UK has proposed an "invisible border" without posts or immigration checks. But there have been no firm proposals on how the customs frontier would be monitored.
The EU's Brexit negotiator Michel Barnier has previously said Britain's proposals would undermine the single market.
A physical border could re-ignite security concerns, two decades after a peace deal – involving Dublin – ended a conflict in Northern Ireland, and did away with army and police checkpoints.