Exclusive: Brussels doesn't want to become next 'jungle'
Comments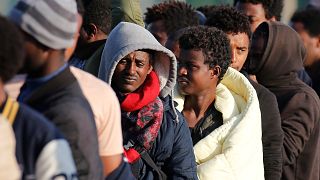 The migrant crisis the EU continues to grapple with on its southern shores has reached its heart – Brussels.
Every night, hundreds of migrants sleep rough in the city's Parc Maximilien, a sliver of green space next to Gare du Nord train station, just three kilometres from the EU headquarters.
Police are increasingly showing up and harassing them, NGO representatives told Euronews.
"They confiscate not only the migrants' belongings, but also their documents, phones, as well as things NGOs give them, like sleeping bags, backpacks, blankets, even clothes," said Magali Clerbaux of the Belgian Red Cross.
Growing numbers of men, mostly from Sudan and Eritrea, have flocked to the Belgian capital since the Calais jungle – a shantytown near the French port where close to 6,000 migrants lived – was dismantled in October 2016.
Every night, volunteers from the NGO Belgium Kitchen make their way across the park to hand out meals to these men, most of whom have survived a long and perilous journey through North Africa and across the Mediterranean.
"When we started there were 250 people on average, now we can have up to 650," said Yassine Haj Idrissi, founder of Belgian Kitchen.
As in the French port of Calais, most men don't want to seek asylum here – they want to reach the UK.
A migrant camp already appeared in Brussels in 2015. So far in Parc Maximilien, in no tents have popped up. But NGOs are sounding the alarm.
Volunteers say repeated police operations in the past couple of days have got migrants scared, and many have moved to other locations. As a result, it's more difficult to find them and reach out to them.
Belgian authorities did not reply to requests for comment. But they have made it clear they don't want to see a tent camp set up in the capital.
"We don't want the Calais 'Jungle' in Brussels," Interior Minister Jan Jambon told "Belgium media VRT this week": https://www.vrt.be/vrtnws/nl/2017/09/06/-we-willen-geen-calais-in-brussel-/, warning that police would carry out checks at various times of the day to turn back undocumented migrants.