UK Brexit team returns to Brussels amid confusion in London
Comments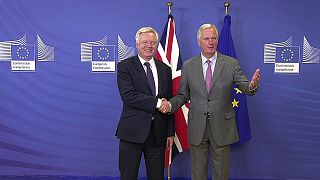 The UK's Brexit team arrived in Brussels this morning, hoping to overcome the delay to the start of negotiations, not helped by recent in-fighting in London.
For both Davis and Barnier, 'progress' was the word of the day.
"We will now delve into the heart of the matter. We need to examine and compare our respective positions in order to make good progress", opened the EU's lead negotiator.
The UK's representative Davis added: "It's incredibly important we now make progress that we negotiate through this and identify the differences so that we can deal with them and identify the similarities so that we can reinforce them."
Despite the positive tone of the press conference, Michael Emerson of the Centre for European Policy Studies said the perceived delay is indicative of government division.
"For the hard-Brexiters this is just a time delay to allow the custom services to get prepared for being out of the customs union. But those soft-brexiters in the cabinet, led we understand by Philip Hammond, the chancellor of the exchequer (finance minister), they cannot escape from the primary dogma that this is all about leaving the EU".
With rifts opening between finance minister Hammond and colleagues over the procedure of Brexit, Prime Minister May has stepped in to stop the quarreling, and called for an end to cabinet leaks.