EU's Barnier cool on PM May's offer for expats
Comments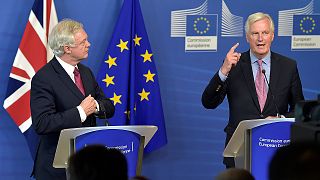 Theresa May's offer on protecting the rights of EU nationals needs "more ambition" and "clarity, the EU's chief Brexit negotiator Michel Barnier said on Monday.
Frenchman Barnier, writing on Twitter, added that the goal of the remaining 27 EU governments was to get the "same level of protection as in EU law."
The policy proposal came after May laid out the general principle of her offer at an EU summit in Brussels on Thursday.
EU goal on #citizensrights: same level of protection as in EU law. More ambition, clarity and guarantees needed than in today's UK position.

— Michel Barnier (@MichelBarnier) June 26, 2017
That could prove a sticking point for the British government, which has consistently rejected any involvement of the European Court of Justice after Brexit.
Britain says it aims to guarantee access to healthcare and education for those EU nationals already living in the UK.
Many say they have been living in uncertainty for more than a year since the referendum.
There have been reports of people across the EU scrambling to apply for citizenship or permanent residency.
Others even fear deportation: a idea rebuffed by senior British diplomats in Brussels last week.
"Theresa May is making a big show about is the least, (it) is just the minimum that you would have expected," said Joao Felix, a Portuguese national living in London.
"Anyone arriving before Article 50 has been triggered, should have the kind of rights that they would have expected in (a country) part of the European Union ".
British expats, too, are worried with some issues to be resolved, including pension rights.
"Any reasonable person would think: 'Well, let the European Court of Justice set the guidelines, but let a British court interpret them for the EU citizens in Britain', said Dennis Abbott, a former journalist based in the Belgian capital.
"The EU citizens that have been working in Britain for the past few years, they deserve the same rights, they should not be second class citizens in Britain. And likewise… I have been living in Belgium for 17 years. Why should I be a second class citizen in Belgium?".
The cut off date to be eligible will be some time between March 29, 2017 — when Article 50 was triggered — and the actual date of Brexit, which should be in March 2019.