Is Ireland headed for trouble at the border?
Comments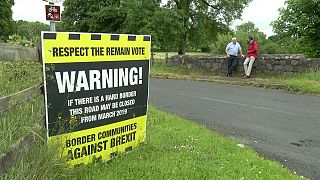 Britain's vote to leave the European Union has raised the stakes in the long and divisive dispute over Northern Ireland's status.
The peace process will totally be undone. It is a nightmare

Northern Irish resident
Concerns that Brexit will lead to a hard border with EU member Ireland have reinvigorated Irish nationalism and its dream of a united Ireland free of British influence.
That in turn has unsettled unionists, who back British rule and fear their majority is slipping away in the region of 1.8 million people.
For some people in both communities, the idea of a new, rigid frontier with Ireland stirs painful memories of the British Army watchtowers and checkpoints that peppered the border during decades of sectarian violence that killed thousands.
The struggle between nationalists and unionists over whether Northern Ireland should unite with Ireland or remain part of the United Kingdom plunged the region into 30 years of violence from the late 1960s which saw 3,600 people killed.
A 1998 peace deal created a power-sharing government that has brought peace and relative prosperity, but has failed to heal the sectarian divide that still defines politics here.
In Clones, a border village in Ireland, checkpoints made border-crossing difficult during that time and Donald McDonald had to give up his family business, a textiles shop.
"I would not want to see us to return to this type of place, this type of barrier. For this, sense of hope and trust and relationships had been damaged by political decision of protectionism by the UK," he said.
A nearby road bridge was closed by the British 76 times during the Troubles, despite the locals removing the barriers again and again.
The authorities are now considering a plan to establish truck checkpoints near here, leaving locals worried.
"I think that people would react in a way that would not be good for neither for the Good Friday Agreement, nor for the people or for the island as a whole," McDonald said.
In Northern Ireland the unemployment rate was at thirty percent, but today it's down to just three percent, which is how people want it to stay.
On the border with Ireland Conor Patterson, who works for the chamber of commerce, has been handing out advice to the Brexit-troubled business community.
"This area has a history of violent challenge of the border as it is a barrier to the free movement of goods and people… And we have enough problems in Europe with radical young people – we do not need another problem of radicalisation," he said.
"The risk is that dissident forces will radicalise people in the community, especially young impressionable people, and they may be attracted to an ideology that would be promote violent challenge of all of this. We do not want to go there – it is too big a threat."
While the Catholic Sinn Fein party is against Brexit and wants the reunification of the whole of Ireland – British north and Irish south – the Protestant DUP party is pro-Brexit and wants Northern Ireland to stay with the United Kingdom.
With its economic advantages EU membership has clearly helped calm the sectarian tension and many people fear Brexit spells trouble ahead.
But one DUP MP, Sammy Wilson, played down those fears.
"The only risk to the peace process is the kind of hysteria which Sinn Fein are trying to generate for the moment for short term political gain – and they really ought to consider what the impact is on their own communities and on their hard men in their communities who will seek any excuse to go back to a terrorist campaign."
Even the prospect of lengthy traffic queues at the border as trucks go through customs is perfectly surmountable, MP Sammy Wilson said.
"One of the intelligent solutions is to use electronic surveillance of trade across the border, using vehicle recognition numbers. – You do not need border posts, you do not need to stop people and you will back up this with occasional physical checks if you felt that that is needed."
It's agriculture and the food industry that might suffer the most economic damage. Before the Brexit referendum the LacPatrick dairy company invested 45 million euros in a new plant in Northern Ireland producing milk powder for Africa and the Middle East, benefiting from current EU trade agreements.
The company has 1000 suppliers and three production sites, in both the north and the south. Its worst case scenario is the "no deal is better than a bad deal" rhetoric of British Prime Minister Theresa May before her government lost its parliamentary majority in elections in June.
"If there is not a free trade agreement on food and agriculture, between the EU and the United Kingdom, this raw material, this milk for instance, will be subjected to WTO tariffs which will be up to 50 percent of the value of the actual product, which will kill off all of this trading," said Gabriel D'Arcy, the chief executive of LacPatrick.
At the pub in Rostrevor, a tiny Northern Ireland coastal village close to the border there's a sense of impending doom amongst the locals.
One of them, Sinn Fein party member Michael Gray-Sloan, fears that Northern Ireland will suffer most from leaving the EU. "I think Brexit is a disaster, politically, economically, socially – nobody knows what is ahead of us and the fact that English folks has dragged us out of the European Union is almost criminal, completely insane," he said.
"Feeling part of Europe and being European is important to people here," said another customer, Paddy McGuinness.
And a third was even more gloomy.
"If we have a hard Brexit and we have a border we are going back… The peace process will totally be undone…It is a nightmare. It does not bear thinking about," said Deirdre Murphy.
"I am hoping that we get a soft, a very soft Brexit," she added.
Live updates from our Insiders team