Trump begins Brussels whirlwind visit
Comments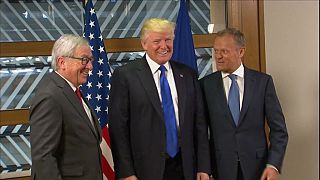 US President Donald Trump has kicked off his whirlwind visit to Brussels.
He's already held talks with European Commission president Jean-Claude Juncker and European Council chief Donald Tusk.
The trip has put European diplomats on edge.
Trump has backed Brexit in the past and he once predicted the EU could break up.
There is also doubt as to what the President's America First policy could mean for transatlantic trade links.
Trump is also meeting his NATO counterparts.
There, he will urge other members to spend more on defence and fighting terrorism.