President Trump set for NATO summit
Comments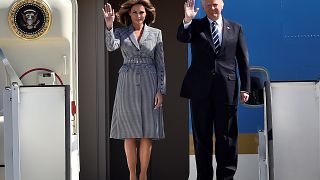 This NATO meeting will mark the inauguration of a new headquarters for the alliance that cost one billion euros.
One can only wonder what Donald Trump, real estate mogul turned US president, will make of that.
The Commander-in-Chief is in Brussels to meet with other leaders; his first visit since he branded the city a 'hellhole' after last year's terrorist attacks.
Terrorism and the age-old U.S. complaint about European defence spending – or apparent lack of it – will be high on their agenda.
"Terrorists struck again this week in Manchester, this was a barbaric attack, which deliberately targeted children, young people and their families.That is also why one of the two main topics that we are going to discuss tomorrow is how NATO can step up its efforts contributing to the fight against terrorism," said Jens Stoltenberg, the NATO secretary general.
Trump the candidate branded NATO obsolete. Now, Trump the president is pushing for the alliance to do more in fighting terror.
And he wants Europeans to spend more on defence. That is where the EU sees a bigger role for itself
"Stronger European Union in the field of security and defence makes NATO stronger and a stronger NATO is key to European but also to American security," said EU foreign policy chief Federica Mogherini.
Some officials in Brussels believe that Britain's imminent departure from the European Union will help speed this process up; the country has long been an opponent of a deeper EU defence policy.
Time is ticking, however, as the US is already turning its attention to other security hotspots across the globe.
"The relationship (between the U.S. and Europe) has started changing in fact already under Obama with the shift of the American strategic focus to the Pacific," said Roberto Castaldi, a political science professor from the E-Campus University in Italy.
"This power vacuum that the Americans left is the condition of possibility for Russia invading Crimea and for the destabilisation of the Middle East and North Africa. So Trump is just accelerating this trend, which puts more pressure on the Europeans to cope with their neighbourhood and to stabilise their neighbourhood…to fill the power vacuum that the Americans left."