MEPs slam Hungary's "serious deterioration" in rule of law
Comments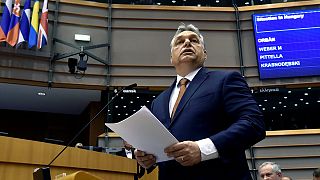 The European Parliament has condemned what it calls a "serious deterioration in the rule of law, democracy and fundamental rights" in Hungary.
A resolution adopted by MEPs comes at the start of a formal process based on Article 7 of the EU Treaty, which could lead to Budapest losing its voting rights.
Viviane Reding, a centre-right MP from Luxembourg and a former Vice President of the European Commission, told Euronews: "More and more people are fed up, it's not one or the other wrongdoing (sic).
"But it's a real systematic breach of the normal values which are at the basis not only of the European Union but, most of all, also of our common party."
But Tamas Deutsch, a Hungarian MEP who supports his country's Prime Minister, Viktor Orban, has slammed the resolution as biased.
"It's clear the leftist group, and especially the Hungarian leftists, are aiming to start a committee process at the European Parliament to interfere in Hungary's election campaign," he told Euronews.
"Our position is clear: we denounce the resolution based on lies and distorted information."
But a strong signal has been sent to Budapest.
A statement from the parliament said: "Recent developments in Hungary have led to a serious deterioration in the rule of law, democracy and fundamental rights, which is testing the EU's ability to defend its founding values."
Our correspondent Sandor Zsiros reported from the European Parliament in Strasbourg: "Prime Minister Viktor Orban has had a lot of political battles with EU institutions.
"But this resolution might be a turning point. Not only because of Article 7, but also because it seems that many allies in the European People's Party have lost patience with the policies of the Hungarian prime minister."
The resolution against Hungary was adopted by a large majority of MEPs, with 393 voting in favour and 221 voting against.
There were 64 abstentions.
A formal resolution to start the Article 7 process is now being prepared.
The procedure would examine whether there is a "clear risk" of Hungary breaching "EU values".
Under the EU Treaty, the bloc's governments would have the power to call on Hungary to make amends and if those pleas are ignored there could be a vote on stripping Budapest of its EU voting rights.
But whether Hungary would actually lose those rights remains uncertain.
The right-wing government in Poland, which is seen as an ally of Orban, could veto the move.
The Hungarian Prime Minister, who came into power in 2010, has come under fire over reforms targeting the media and the judiciary.
Appointments to top public jobs and immigration policies have also caused controversy.