EU's top court makes surprise ruling on trade deals
Comments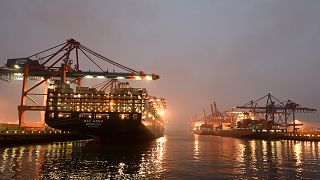 Amid growing doubt and concern about the future of key trade agreements, there is a surprise ruling from the European Union's top court.
The European Court of Justice has ruled that a free trade deal struck between the EU and Singapore in 2014 cannot come into force unless ratified by all of the bloc's member states.
The case had been closely watched for clues about the likely jurisprudence in other future trade deals, including with the UK post-Brexit.
Previously the European Commission argued that negotiating trade deals on behalf of member states is an exclusive EU competence and ratification in each country was not needed.
But the new court ruling contradicts that and there are warnings that other planned EU trade deals could now be slowed down.
Deals in the pipeline that could be affected include those with Japan and Mexico.
But, more crucially for many in the EU, there is also the much-talked about trade deal that will have to be struck with the UK after Brexit.
Any hope that Britain would be able to strike a quick deal with the EU, without having to get the approval of each member country, now seems to be in doubt.
The process of ratifying a deal in each EU nation could be long and fractious.
The EU-Singapore deal will now have to be ratified in all 28 members of the bloc, including approval in more than 40 national and regional parliaments.
The European Court of Justice agreed that many elements of the agreement fell within the EU's exclusive competence, but other areas did not and would have to be approved before national parliaments.
In reaction to the court ruling, the European Commission issued a statement.
"The European Commission welcomes today's opinion of the European Court of Justice on the division of competences between the EU and the member states in the EU-Singapore trade agreement," it said.
"The Commission will now carefully assess and analyse the opinion of the Court and will continue engaging with the European Parliament and member states on the way forward."