Migrant weary EU promises to change relations with Africa
Comments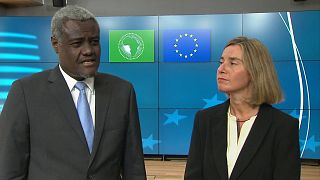 EU foreign policy chief Federica Mogherini says the bloc is changing its attitude towards Africa after the massive increases in migration in the past few years.
We are moving from the traditional purely aid centred approach to Africa

EU Foreign Policy Chief
The comments came after a meeting between the African Union's President Moussa Faki Mahamat and the EU's Foreign Affairs Council in Brussels.
"We always find in the _AfricanUnion</a> a valuable, serious and consistent partner". <a href="https://twitter.com/FedericaMog">FedericaMog with MoussaFaki_M</a> ▶️<a href="https://t.co/3tCiBgnAoZ">https://t.co/3tCiBgnAoZ</a> <a href="https://t.co/sTM2RO0hte">pic.twitter.com/sTM2RO0hte</a></p>— EU External Action (eu_eeas) May 15, 2017
Many millions of young Africans remain frustrated at the unemployment and the high levels of poverty they continue to endure.
"We are moving from the traditional, purely aid centred approach to Africa, to a real partnership, this is the best way to manage migration, this is also the best way of preventing radicalization and facing the challenges, but also getting the opportunities that the African continent offers to its young population," she said.
AU President Moussa Faki Mahamat echoed Mogherini, saying both continents must now tackle the causes of migration.
"The issue of migration cannot be solved just by dealing with the consequences rather than addressing the causes, it is a deeper problem… by sending people away, building camps, building barriers, we will never solve these problems," he said.
Thousands of young African migrants, many of them refugees, make two dangerous journeys before they reach Europe and what they hope will be a better life.
First they must cross the Sahara desert and then the Mediterranean Sea in unreliable and overcrowded vehicles and boats.
The Mediterranean has become a graveyard. This year alone over thirteen hundred refugees and other migrants have drowned trying to reach Europe.
Last month the UK's former ambassador to Libya, where most migrants set sail for Europe, warned that as many as a million African migrants are on their way to Europe.
Quoted in the Guardian newspaper, Joe Walker-Cousins said: "My informants in the area tell me there are potentially one million migrants, if not more, already coming up through the pipeline from central Africa and the Horn of Africa."