Mexico and EU closing in on trade deal
Comments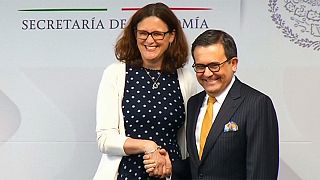 Mexico and the EU expect to wrap up negotiations for a "http://www.euractiv.com/section/economy-jobs/news/good-progress-in-eu-mexico-trade-talks/": new free trade agreement by end of 2017. It would replace the existing deal signed over 17 years ago.
Since it took effect bilateral trade has soared from 19 billion euros to almost 57 billion euros in 2016, a volume that has placed Europe among Mexico's top three trade partners.
But the aggressive rhetoric of US President Donald Trump and his commitment to renegotiating of the North American Free Trade Agreement has changed Mexico's trading relationship with its northern neighbour and major economic partner.
Now the country is determined to diversify and explore other potentially lucrative arrangements.
"The clear message is that we will not paralyse ourselves given the challenges we face in the Washington renegotiations of the North America Free Trade Agreement, said Mexico's economy minister Ildefonso Guajardo at a news conference in Mexico City after talks with EU Trade Commissioner Cecilia Malmstrom. "Mexico will continue to move forward and today more than ever the strategy of diversification (of exports) has become an obligation so as to re-position the Mexican economy," he added.
Full press release after meeting w ildefonsogv</a> about the negotiations for a new trade agreement btwn EU & <a href="https://twitter.com/hashtag/Mexico?src=hash">#Mexico</a>:<a href="https://t.co/qnjVunPHEa">https://t.co/qnjVunPHEa</a></p>&mdash; Cecilia Malmström (MalmstromEU) 8 mai 2017
Malmstrom said the EU was keen to take advantage of Mexico's quest to boost trade outside the Americas.
"But of course, right now there are those who doubt the benefits of free trade and of multilateral regulations. Those of us who want to do business are sending this signal that we are ready; we want to build bridges and not walls," she said.
President Trump's stated aim to make Mexico pay for his proposed border wall has placed unprecedented strain on relations between the two countries.