Germany opposes ending Turkey EU talks
Comments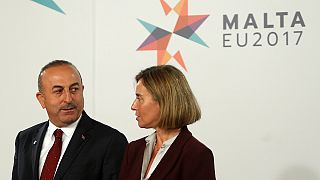 Germany on Friday rejected demands to halt Turkey's bid to join the European Union, even as some EU states said Ankara's membership dream was dead after Turks voted to grant President Recep Tayyip Erdogan and every other future president sweeping new powers.
Increasingly worried with what the European Union sees as Erdogan's growing authoritarianism, EU lawmakers called this week for a formal suspension of Turkey's long-stalled EU bid, saying it does not meet democratic standards.
But German Foreign Minister Sigmar Gabriel said such a step would be counterproductive.
"The German government is strictly against cancelling the (accession) talks, that would be totally the wrong reaction," he told reporters as he arrived for the meeting in Malta.
"Those who would like to win applause at home because they say 'We do not talk to Turkey any more' will not change anything in Turkey," he said.
Austria has led calls to abort the process, which was launched in 2005 and has been frozen by political obstacles over Cyprus and what many have deemed to be Islamophobic resistance in some EU states to let in the majority Muslim country, even before this month's referendum.
"It would be absolutely wrong to stick to the illusion of accession (to the EU)," Austria's Sebastian Kurz said.
Erdogan narrowly won a referendum to implement the biggest overhaul of Turkey's political system since the modern state was established nearly a century ago.
Supporters say it will give Turkey stability but EU officials and Turkey's opposition say it is the beginning of one-man rule.
Erdogan's security crackdown following a failed coup last July that killed hundreds of Turks and wounded over 2,000 civilians. His "Nazi" jibes against EU states Germany and the Netherlands, and what the bloc sees as persecution of dissenting voices, have provoked a crisis in relations.