EU warns Turkey on death penalty 'red line'
Comments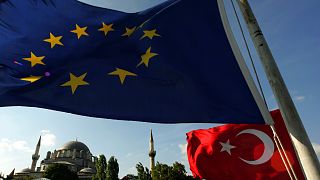 The European Commission wants Turkey to investigate "alleged irregularities" in Sunday's referendum boosting the power of President Erdogan.
Council of Europe observers say those irregularities could have changed the outcome of the vote.
President Recep Tayyip Erdogan has also suggested holding a referendum on whether to bring back capital punishment.
Some MEPs are already calling for the door to be slammed shut on Turkey's longstanding EU membership bid.
The EU's executive arm warned Ankara that restoring the death penalty would be a "red line."
"It is the reddest of the red lines," said European Commission spokesman Margaritis Schinas.
"We have an unequivocal rejection of the death penalty."
Belgium has highest percentage of pro Erdogan voters in Europe.
Government figures say some 75 percent of Turkish Belgians backed President Recep Tayyip Erdogan's acquiring more powers.
That is a stark contrast with the UK, where almost 80 percent of voters opposed the move.
Germany had 63 percent voting in favour of the president, the Netherlands 70 percent.