Bayer-Monsanto merger is 'marriage made in hell,' say activists
Comments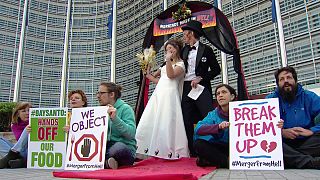 Environmental campaigners have turned out in Brussels to demand the EU blocks a deal that would create the world's biggest seeds and pesticides company.
They want to see a merger of Bayer, from Germany, and America's Monsanto scrapped.
"We think these cooperations have already a toxic grip on our food supply and if these mergers are allowed to happen then we think it will be a marriage made in hell," said Adrian Bebb, from Friends of the Earth, organisers of the Brussels protest.
"It's going to be bad for farmers, it is going to be bad for the consumers and it is going to be bad for nature. We think the European Commission should stop these mergers from happening."
A petition letter signed by 200 organisations has been delivered to the EU's Competition Commissioner.
Bayer and Monsanto say the merger would bring billions of euros of investment and create several thousand new jobs.
Monsanto has hit the headlines for its genetically modified seeds, condemned by some environmental activists.