'Numerous barriers' in accessing EU infertility services
Comments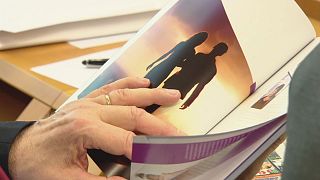 A new EU report claims there are "numerous barriers" in accessing infertility services across the European Union.
The document, produced by Fertility Europe and the European Society of Human Reproduction and Embryology, shows around 25 million EU citizens are affected by infertility.
It also highlights that fertility rates vary across the nine countries looked at, with the lowest in Spain and Poland – and the highest in France. But even the highest rate falls short of the population stabilisation rate of 2.1 live births per woman.
A Romanian MEP, who has hosted a debate in Brussels, says Europe faces a huge demographic problem.
"In order to resolve this issue, it's necessary to look to the internal policy and fertility policy must be internal policy in all member states," said Norica Nicolai.
Born in Britain in 1978, Louise Brown was the world's first so-called "test tube" baby. IVF used to help her mother who couldn't conceive naturally. It was revolutionary, but highly controversial.
Now 38, Louise has been in Brussels for the release of the report.
"Before mum was pregnant with me, mum actually went to the doctors with depression. And the doctor underlined the fact that she couldn't get pregnant that was causing the depression," she told Euronews.
"So, it's just the awareness for people to realise that it's not just for mums and dads to have a baby, it's creating families."
IVF – the process of fertilising an egg with sperm outside the body – remains controversial.
"What we would like to see is much more restorative medicine and therapies, which actually address the problem of infertility at its source, not more IVF," said Mark Bhagwandin, from the UK-based 'Life' charity.
Louise says all women in the EU should be offered IVF, if they can't conceive naturally. She thanks it for her existence, and has gone on to have a family of her own.
The 'Policy Audit on Fertility' looked at the Czech Republic, France, Germany, Italy, Poland, Romania, Spain, Sweden and the UK. Click here for full document.