EU leaders mark 60th anniversary of founding treaty
Comments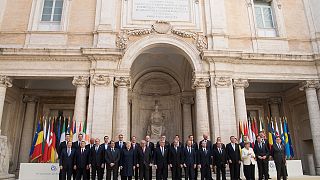 EU leaders have joined together in Rome to mark the 60th anniversary of the founding treaty of the bloc.
It is a show of strength, at a time of turbulence – with Britain absent, as it prepares to exit the bloc.
The Rome Declaration formed the centrepiece of celebrations, a document which talks of peace and unity.
"I will sign my dear friends the declaration of Rome with a pen, I should say the pen used in 1957 by Luxembourg to sign the Treaty of Rome. These are the signatures that last," said Jean-Claude Juncker, European Commission President.
The leaders put pen to paper in the Campidoglio palace, the very same place that the six founding states signed the Treaty of Rome in 1957 – launching the European Economic Community, the EU's forerunner.
The declaration promises to listen to citizens. Some have lots to say right now, with anti-EU protests having been planned around the anniversary event.
Brexit has helped fuel eurosceptic nationalists challenging governments from Stockholm to Sicily.
Pope Francis said on Friday the EU had achieved a lot in six decades, but was facing a "vacuum of values."
He condemned anti-immigrant populism and extremism, something he said posed a mortal threat to the bloc.
Reporting from Rome, Euronews' Gregoire Lory said: "Under the sun, here in the capital, the 27 Heads of State and Government have displayed their unity, and with their smiles, all the European leaders signed the Rome Declaration – 60 years after the Treaty of the same name.
"For the President of the European Commission, the document is simply a new beginning for the European project. The priority now is to turn those words into action."