'I will not be a hostage' - Luxembourg PM on EU's future
Comments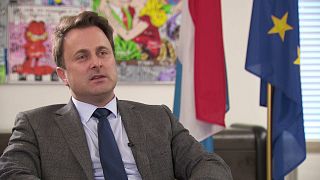 As the European Union prepares to marks its 60th anniversary, Luxembourg's prime minister has told Euronews that he wants to see a multi-speed EU, where no country holds the others "hostage."
Frederic Bouchard, Euronews: "After 60 years, is it not the beginning of the end for the European project?"
Xavier Bettel, Luxembourg Prime Minister: "On the contrary, the 60-year anniversary is the moment when we look at what works well. It is better to be aware that it works, Europe is born of a project of peace, with two countries, France and Germany, who before, were sometimes shooting at each other."
Euronews: "But do you think that this Rome declaration may be an important step in the relaunch of the European project?
Bettel: "Rome is not at a moment of negotiation, Rome is the moment when for 60 years one lives in peace, it marks 60 years of having liberties, having rights, living in a space where I can go to work, I can go to live, I can get married, I can die, I can study, I can be cared for, I can be defended, I can be elected. It is something we must remember."
Euronews: "The leader of the ruling party in Poland said he refused a two-speed Europe, saying it meant a descent into the second division for his country. Do you understand this concern?"
Bettel: "The problem is that a Europe at two speeds, it's not one speed and then another. It will not be one speed where everyone follows, and the second which no-one will follow.
"With the digital agenda, for example, we have 28 regulators, we have 28 markets, we are blocked between the United States and Asia, we are caught in a vice. We need to understand that we need a common strategy.
"It is not because a country says 'I do not want to' that we won't advance. We should be able to move forward issue by issue. It will not be a Europe with those who want and those who don't want.
"We have the enhanced cooperation, as you have seen with Schengen. We started in a few countries, then we grew up country by country. It will be like that with other things, and the euro has been the same. We see it with countries that may be initially chilly towards one or the other.
"Other projects will want to continue working. I do not want to have a stalled Europe, and I will not be a hostage of one or the other on domestic policy issues."
Euronews: "You will not be hostage to Poland?"
Bettel: "You say Poland, but once again it is on a case-by-case basis. If Poland wants to block everything, it has to tell us. It will not be, on the one hand, those who move forward and the others at a dead end, even though often we have the impression some want to move backwards.
"It will be project by project, it is for me a multi-speed Europe where we move forward rather than remain at a standstill.
"I will not let myself be blocked today because one decides. If one does not want to move forward, it is not the European Union, we are not hostage to one or the other, we continue together. My project is to remain at 27, I would have preferred 28, I respect that decision and regret it.
"But I want to continue as 27, that's my main purpose, but I don't want us to do nothing. I prefer a two-speed Europe than a stalled Europe."