The EU at 60 and the bloc's love, hate story
Comments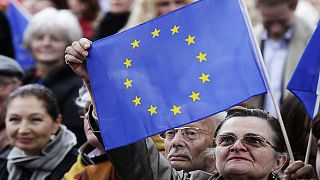 The European Union is turning 60. For most, the EU has brought peace, stability and economic growth. And yet Euroskepticism is growing. This edition of Insiders asks if Europe to blame for the rising opposition to the bloc.
A recent survey shows that 66% of Europeans believe the EU is a beacon of stability in a troubled world.
Another 81% embrace the fact they can freely move and work within its borders. But the protests and critics have been getting louder.
Rise of populism
Populist and Euroskeptic movements are indeed gaining ground or even at the helm in several European countries. Also, Britain is leaving and Greece is on the brink. Who is to blame? Europe and its institutions as some argue or other forces, endemic to those countries? Or is it a bit of both? Well, let's do some fact-checking here.
"Multiple factors fuel European populism and Euroskepticism: weak economic growth, high unemployment, fears of the impact that immigrants have on a country's identity and security, demographic change, discontent with traditional political elites and a feeling among certain sectors of the population that the alleged benefits of globalization are failing to reach them," reported Stratfor.
"Regardless of the results of the elections this year, many of those trends will not change and will remain a threat to the continuity of the eurozone," Stratfor added.
Despite Far-Right Loss In Netherlands, Nationalism Isn't Going Anywhere, via mgoprea</a> <a href="https://t.co/KE6Jm2u5ey">https://t.co/KE6Jm2u5ey</a></p>— The Federalist (FDRLST) March 20, 2017
Poland: from EU poster child to euroskeptism
Poland was once the poster child of successful democratic transitions and EU enlargement. Today, the country is the largest recipient of EU funds and boasts a thriving market economy. But Poles not unlike Hungarians have elected a very Euroskeptic government that openly challenges Europe's shared democratic values. Why the paradox? Hans von der Brelie finds out in this episode.
Poland's failure to block Tusk has sent the country's government in a sharply Euroskeptic direction https://t.co/ZEHC1PdER1

—

POLITICO

Europe (@POLITICOEurope) March 10, 2017
Greek economy 'in tatters'
Greece joined the EU in 1981, and the Eurozone 20 years later. For the expanding EU, Greece's entry was seen as a way to ensure democracy and stability in southern Europe at the height of the Cold War. And it worked. But three decades later, the country's economy is in tatters, poverty is rising… even after three bailouts. Who is to blame for Greece's misfortunes? Valerie Zabriskie finds out in this episode.
Greece's economy strongly recovers for first time since 2010 https://t.co/b1ZR9h51APeuronews</a></p>— Jaime Aznar (jaimeaznarblog) February 25, 2017
Unlike Elsewhere In Europe, The Far Right In Spain Stays On The Fringe https://t.co/tbc19nFX67

—

NPR

Politics (@nprpolitics) March 16, 2017
Brussels
The Belgian capital is either Europe's beating heart, or the root of all evil, depending on who you talk to.
Is the EU giving European taxpayers their money's worth, and spending it properly? Or is Brussels wasting money on pointless regulations, excessive wages, let alone fraud? Valerie Gauriat finds out in this episode.
The Euroskeptic wave has not broken. https://t.co/6762rTlxlspic.twitter.com/xNMONoPBwq

— Stratfor (@Stratfor) March 17, 2017
Live updates from our Insiders team