'I can't quantify it' - Britain's Brexit Secretary on impact of no-deal scenario
Comments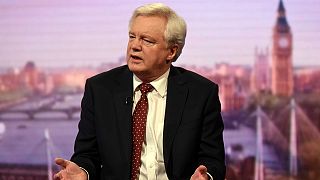 Deal or no deal? Britain's Brexit Secretary says he cannot "quantify the outcome" of leaving the EU with no agreement.
But, facing questions from a parliamentary committee, David Davis added that it would not be as good as having the free trade deal being sought with the bloc.
"I can't quantify it for you in detail yet. I may well be able to do so in about a year's time," he told the committee.
"But it's certainly the case that it is not as frightening frankly Mr Chairman as some people think. But it's not as simple as some people think."
British Prime Minister Theresa May has repeatedly said she is prepared to walk away without a deal if the exit terms fall short.
But there is also tough talk coming from EU leaders on the other side of the channel.
"I want to be clear that a 'no deal' scenario would be bad for everyone, but above all for the UK, because it will leave a number of issues unresolved," said Donald Tusk, President of the EU Council.
"We will not be intimidated by threats, and I can assure you, they simply will not work. Our goal is to have a smooth divorce, and a good framework for the future."
Some MEPs reiterate there should be no cherry-picking as the UK's shown to the exit.
"Out is out and in is in, once Britain is out, it is no-longer member of the club," Alexander Lambsdorff, a German Liberal MEP, told Euronews in Strasbourg.
"So, it cannot hope for a deal that would be tantamount to having all the privileges, but not being part of our community including the supervision by the EU court of justice."
Theresa May has promised to trigger the formal divorce proceedings this month. Two years of talks then follow, seeing the UK leaving in early 2019.