Hopes and hurdles for Cyprus reunification
Comments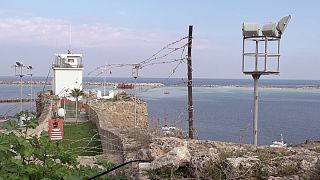 It is believed to be Aphrodite's birthplace, yet Cyprus' modern history has not been one marked by love – rather by a great deal of violence that ended with the island's division between a Turkish north and a Greek south in 1974.
UN-sponsored unification talks gained momentum in January, when the two leaders of the divided island resumed direct negotiations, though there have been setbacks since.
The United Nations said on Thursday it was working to get the talks back on track. UN envoy Espen Barth Eide is working with breakaway Turkish Cypriot leader Mustafa Akinci and President Nicos Anastasiades, a Greek Cypriot, and new meetings will be announced "in due course."
Cyprus reunification talks: Everything you need to know about one of the world's most intractable disputes https://t.co/Th65Xok1wf

— The Telegraph (@Telegraph) January 10, 2017
What's at stake? Power-sharing for the future federation, compensation for the tens of thousands of people that were displaced north and south, losing their land and property, and of course security. The future of some 30,000 Turkish troops stationed in northern Cyprus is the main stumbling block so far.
Hans Von der Brelie traveled to Cyprus to ask both Greek and Turkish Cypriots about a possible reunification. Some are not ready – not now, not ever – while others want peace and don't mind sharing power.
If peace talks are to succeed, a referendum will be held on both sides of the island.
Opinion polls show most Cypriots support a federal solution.
"The problem is not that many people have confidence that there will be one, because this has been going on for 40 years or so," said Fiona Mullen, director of the consultancy Sapienta Economics in Cyprus.
"You also see a generational difference: the older people, interestingly enough, are generally more in favour of a solution than the younger ones, because they've actually lived together with Greek- and Turko-Cypriots. They've lived with the other community before. Whereas the younger ones have been brought up to see the other side more as an enemy, especially through the schooling system."
What's in it for Cypriots?
Peace obviously, but also business opportunities and a stronger economy.
The island, which lies off the coasts of troubled Turkey, Syria, Lebanon and Israel, is a beacon of stability in the region. It has great tourist sites, some of them untapped, as well as unexploited offshore gas reserves.
Yet foreign direct investment is almost non-existent.
Valerie Gauriat sought to find out more about the economic benefits of a reunified Cyprus and some of the trapped treasures of the divided island.
The key sectors to gain from a reunification are tourism, natural gas, shipping and professional services. However, Sapienta Economics' Mullen says the country as a whole will benefit. The 18-billion-euro Greek-Cypriot economy would be able to trade with a 700-billion-euro Turkish economy, while the Turkish Cypriots, who only have a 3-billion-euro economy, would be able to do direct business with a 14-trillion-euro European Union economy, she said.
Cyprus also has an educated workforce, which is currently struggling with a high unemployment rate – nearly a third of Cypriots aged under 25 are jobless.
"If the older generation can't get over its historical problems in order to give this great gift to its unemployed children, I think that would be the great tragedy here," said Mullen.
Hope fading away
Yet the window of opportunity for reunification may be closing – fast.
Turkey has been supportive of a federal solution in Cyprus, but it's holding its own constitutional referendum in April. President Recep Tayyip Erdoğan is hoping, through the vote, to consolidate his powers. In order to win, he needs the support of nationalists, who staunchly oppose Turkey giving up on its control over Northern Cyprus.
That may delay the prospect of a unified Cyprus.
Add to that the fact that Nicos Anastasiades, the internationally-recognized Greek Cypriot leader, will be running for re-election in less than a year and may also be tempted to adopt a more nationalist line, and a deal looks increasingly difficult to reach.
#Turkey could still be the biggest hurdle to #Cyprus reunification.https://t.co/ZSUcgBd4sP

— George Kyris (@GeorgeKyris) February 24, 2017
Live updates from our Insiders team