Cyprus reunification: What is at stake politically?
Comments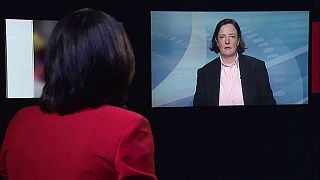 Sophie Claudet, Euronews:What is the general support in favour of a peace accord nowadays in Cyprus?
Fiona Mullen, director, Sapienta Economics: "I think the polls show that generally speaking, most people want a solution. The problem is not that many people have confidence that there will be one, because this has been going on for 40 years or so. You also see a generational difference: the older people, interestingly enough, are generally more in favour of a solution than the younger ones, because they've actually lived together with Greek- and Turko-Cypriots. They've lived with the other community before. Whereas the younger ones have been brought up to see the other side more as an enemy, especially through the schooling system."
Sophie Claudet, Euronews:As an observer of Cyprus politics, what is, in your mind, the biggest stumbling block?
Fiona Mullen, director, Sapienta Economics: "I think security is the biggest – especially if you think of it in the broadest of terms. It's not just "will I be shot, like my family was back in the 60's or 70's?" It's also security of identity: Will this bi-communal government somehow dilute or even obliterate my identity as either a Greek Cypriot or a Turkish Cypriot? There's economic security. People want to know: can we afford this compensation? I've done a lot of work on this, I think we can. But there's lots and lots of public information out there about how we're going to do that. And then there's also the security of the governance arrangements. You know it all fell apart in the early 1960's and people want to know that there are mechanisms in place to make sure that doesn't happen again. So it's security in its broadest aspects. But even in the specific aspects of troops and guarantees, we know that's the issue that divides the two communities the most."
Sophie Claudet, Euronews:Is it fair to say that the window of opportunity is slowly closing?
Fiona Mullen, director, Sapienta Economics: "I would say it's closing quite rapidly actually. You don't have very many opportunities when you have a Turkey which is in favour of a federal solution – which it hasn't always been – and two leaders who are also genuinely trying to put the country back together again. And these opportunities don't come around very often, and we already have probably a delay because Turkey is holding its constitutional referendum, and then President Anastasiades in the south will be running for re-election in less than a year's time. So he's going to be looking at elections any day now. And so you really only have got until the end of April, and then I think that it gets very, very difficult after that."