Austrian president warns EU of the threat of 'simplistic populism'
Comments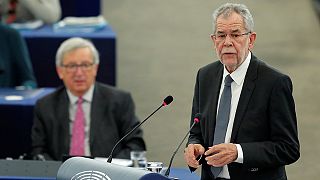 Austria's president has warned MEPs that Europe should not repeat its past mistakes, as so called populist parties look to do well in key European elections this year.
"My election as the President of the Republic of Austria in December 2016 was a clear rejection of the burgeoning nationalism, protectionism, the seductive, simplistic populism," said Alexander Van der Bellen in an address to the European Parliament in Strasbourg.
An economist by training, the 73-year-old former Green party politician said Europe has a role to play in setting the rules for global capitalism.
"Who, if not the European Community, has the power to put global corporations within the limits when they abuse their market power?" he asked.
"But the rules that need to be negotiated, the rules of the game, which are now to be agreed with Facebook, Google, Microsoft & Co – the nation state cannot negotiate them alone."
Van der Bellen beat a far-right candidate in December's presidential election re-run after a vote earlier last year was annulled, owing to voting irregularities.