MEPs set to vote on Canada trade pact, but Walloons loom large
Comments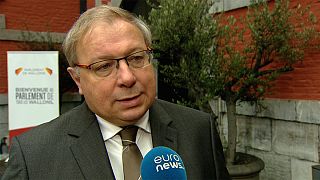 The Belgian region of Wallonia garnered international attention last year.
Local MPs refused to give their green light on a free trade deal between the EU and Canada.
It was eventually applied but only provisionally.
Now, on Wednesday, the European Parliament will vote on whether to ratify the agreement.
But the Walloons say they might be ready to step in again.
"The Parliament of Wallonia has some issues and if they are not faithfully met by our Canadian friends, the Council or the Commission we will not ratify this treaty," said André Antoine, the head of the Walloon parliament.
Philippe Bolle runs a fire optics firm. He employs 26 people, but his company is also active in China.
"I work with clients who are global, globally and therefore generally they want us to work for them on different continents. And so we work on very small components but they want very fast turnaround times to deliver our components," he said.
"And therefore (the deal with Canada) would allow me to switch between my inventories that I have on my various production lines without having to have administrative constraints and taxes," Bolle added.
Bolle says the Canada deal could bring opporunities for the US market as well.
But the protectionism of Donald Trump is a major concern.