Malta PM: Brexit hits 'hard,' migrant system 'dysfunctional'
Comments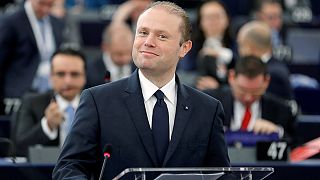 The reality of Brexit is hitting Europe "hard on the nose" and the migrant crisis has arisen from a "dysfunctional" system, Malta's prime minister has told Euronews.
Reality has hit us hard on the nose. It (Brexit) is happening

Prime Minister of Malta
Joseph Muscat was speaking ahead of an EU summit on the Mediterranean island.
Leaders will hold a day of meetings on Friday (3 February) dealing with migration and discussions to consolidate Europe after the UK leaves the bloc.
Those attending are expected to give their political backing to a series of new measures aimed at stemming the flow of migrants from the Libyan coast to Italy.
#Malta PM JosephMuscat_JM</a> greets <a href="https://twitter.com/hashtag/Lithuania?src=hash">#Lithuania</a> President <a href="https://twitter.com/Grybauskaite_LT">Grybauskaite_LT ahead of #MaltaSummit tmrw, to focus on #migration, #ENP & #Brexitpic.twitter.com/Riq7FL4Dpa

— Government of Malta (@MaltaGov) 2 February 2017
James Franey, Euronews: "What a time to be at the helm of the European Union, with everything that is going on in the world at the moment.
"Now, you have been quoted as saying that you think that there is a small chance that Brexit won't happen, yet we saw the Brexit bill passed in the House of Commons. What do you think about that theory? Do you think that Brexit is still going to happen or not?"
Joseph Muscat, Malta Prime Minister: "Well, maybe all those who wish the UK well and consider themselves to be friends of the United Kingdom, and would like the UK to remain part of the European Union, are still wishing that this is not happening. But I think that reality has hit us hard on the nose. It is happening."
Euronews: "So I guess the best case scenario once upon time was that Britain stays inside the European Union, but from your point of view, what do you see as the worst case scenario. Could we be talking about tariffs between Britain and the EU 27?"
Joseph Muscat, Malta Prime Minister: "Well, I think that once the British Prime Minister said in one way or another that she is ready to walk away, walking away from a deal means reverting to WTO rules.
"I understand that Theresa May would want to position herself in that way at the start of negotiations. I do hope that's not going to happen. It would be in no-one's interests really.
"I believe this is already a lose-lose situation. We need to make the best out of it. The best out of it in my books is a fair deal. But an inferior deal."
All ready to go for tomorrow's important #MaltaSummit of #EU leaders on #migration & future of Europe pic.twitter.com/jcZpJGoRiw

— EU2017MT (@EU2017MT) 2 February 2017
Euronews: "And on the issue of migration, a big issue for you at this summit of course. According to a draft statement that we've seen, the EU is actually going to consider returning people to Libya. Why would the EU do that?"
Joseph Muscat, Malta Prime Minister: "I think that the way that this is being interpreted is not right. What I believe is being discussed is how to help the Libyan government and other governments protect their own borders and manage their own borders.
"Whatever we do, the same spirit that we have done in the Turkey deal would not go against the principles of international law."
Euronews: "So there will be no returns under this… You're not interested in sending people back to Libya?"
Joseph Muscat, Malta Prime Minister: "I am saying that it is not about the EU or European countries breaking international rules, it's about helping if they request so, the Libyan government which is right now very weak, protect its own borders and manage its own borders."
Euronews: "Forgive me for sounding a little cynical, but EU leaders have said this many times before. What makes you think that if we throw a lot of money at the Libyan government, there will be able to solve what is essentially our problem?"
Joseph Muscat, Malta Prime Minister: "There is an issue on controlling migration, economic migration. We cannot just live in a world where people can… you have to wait to get into Europe. You either apply and get your visa refused or you can cross the sea and then you get allowed in. It's dysfunctional.
"So that's why I think we need to stress the need for other countries to manage their borders, us managing our borders, create a system where those asylum seekers, those refugees, those fleeing war and persecution, don't need to cross the desert and risk their life at sea, but are airlifted and taken to European countries where they can begin a new life."