EU Parliament picks new president
Comments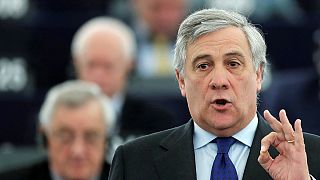 Italy's Antonio Tajani is the new president of the European Parliament after four rounds of voting.
He beat his compatriot Gianna Pittella into second place by 351 votes to 282
Four other candidates were eliminated after the first three rounds, which were organised by secret ballot.
Tajani is a member of the centre-right EPP group, while Pittella sits with the centre-left Socialists and Democrats.
Liberal MEP Guy Verhofstadt pulled out of the race to throw his weight behind Tajani, an ex-spokesman for former Italian PM Silvio Berlusconi, who is now favourite to win.
It means his EPP grouping will control all three top jobs at the EU level: the European Parliament, the European Commission, and the European Council.
This could see Socialists ask for a reshuffle to secure at least one position.