Antonio Tajani is the new European Parliament president
Comments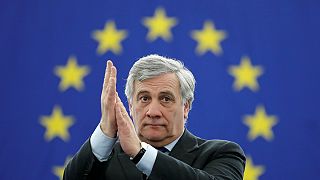 Italian MEP Antonio Tajani is the new president of the European Parliament.
He beat his centre-left compatriot Gianni Pittella by 351 votes to 282.
It took four rounds of voting for Tajani to emerge victorious.
He is an ally of ex-Italian prime minister Silvio Berlusconi and a former European commissioner.
Tajani replaces Germany's Martin Schulz who stands down after five years.
The close run battle brings to an end the Grand Coalition deal that was signed in 2014 and led to critics to brand the European Parliament as rubber stamp body.