Norway frets over 'very hard' Brexit
Comments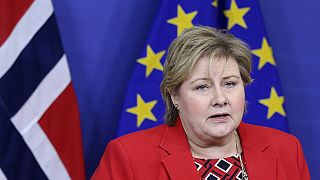 Britain lacks experience in international negotiations, according to Norway's Prime Minister, which means it could complicate its Brexit talks.
Erna Solberg, the leader of the non-EU country since 2013, told Reuters she fears the UK will quit the EU's single market and customs union.
Britain's Theresa May has so far said little about her strategy, arguing she doesn't want to reveal her hand at this stage.
On Wednesday, the British government named Sir Tim Barrow as its new ambassador to the EU.
He used to be Britain's man in Moscow and replaces Sir Ivan Rogers, who resigned earlier this week.
Ex-PM David Cameron appointed Sir Ivan just over three years ago.
But he quit amid reports of a breakdown in his relationship with Cameron's successor.
Barrow worked on EU affairs during Tony Blair's premiership and it is known at the Foreign Office as highly experienced, tough negotiator.