Euronews meets some of our refugee friends one year after fleeing war
Comments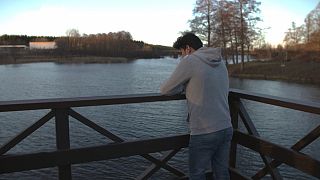 Europe is witnessing the largest influx of migrants in recent history. Euronews reporters have met many refugees: men, women and children. We have seen happy stories of people finding a new home away from war or poverty, but also grim stories of human trafficking, sexual abuse and child labour.
The Eli family: refugees from Syria
Euronews Insiders reporter Hans Van Der Brelie first met Syrian couple Kawa and Emina Eli and their two-year-old daughter Huner in Romania.
After a long ordeal involving prison for the father Kawa, who was cleared in the end, the family regrouped in Germany.
Sure they are facing a few hurdles, like not finding a place for their daughter in the local kindergarten, like having to wait to get access to German language classes.
Kawa, Emina and Huner are three of more than one million refugees Germany has welcomed over the past two years. Their story is one with a happy ending: they are together, far from war and have made a fresh start.And in line with the spirit of Christmas,they is expecting a second child.
The young man fled the war raging in northern Syria with his wife and baby
---
Mokdad Al Jobri: refugee from Iraq
Euronews Insiders reporter Valerie Zabriskie tracked down Mokdad Al Jobri, an Iraqi refugee whose story we first told last January.
Mokdad from Baghdad had then found refuge in the arctic north of Sweden.
A year later he is still waiting to get asylum in a refugee centre two hours from Stockholm. His wife and children, aged 3 and 5 stayed in Baghdad.
Mokdad has not been offered any language courses, he does not work and may never be granted asylum because Sweden now considers Iraq to be a safe place unlike Syria. He even faces deportation.
Sweden and Germany reintroduce border controls
After a wave of more than a million migrants entered Europe in 2015, countries in the European Union's Schengen passport-free travel zone, including Sweden and Germany, reintroduced selective border controls to stem the influx.
Last month (November) Sweden extended temporary border controls for another three months, citing security concerns.
Sweden made an abrupt U-turn last year on decades of generous immigration policies, introducing border controls and tough asylum rules after 163,000 people applied for asylum in 2015.
Sweden's tough new residency laws begin https://t.co/Te3IewoEpI via TheLocalSweden</a></p>&mdash; Angela DeAngelo (AngelaDeAngelo) August 2, 2016
At the beginning of 2016, Berlin made moves to stem the flow after more than a million migrants arrived in Germany during 2015.
New measures agreed include a two-year ban on family reunions for asylum seekers who are granted limited refugee protection and speeding up the deportations of failed applicants.
Border checks return to where Europe's open borders began: Schengen https://t.co/45xQT4ipGupic.twitter.com/6zkOmjaerc

— Wall Street Journal (@WSJ) March 24, 2016
Recent figures from Eurostat show that the number of asylum applicants in Germany was up (120,000 more applicants), while in contrast Sweden saw its number of asylum seekers drop by 37,500 in the third quarter of 2016 compared with the same period in 2015.
---
"'No Stranger Place' — photo project portrays refugees</a> and their hosts in Germany, Sweden and Austria" <a href="https://twitter.com/UNHCR_NE">unhcr_nehttps://t.co/HztHNL1VFi

— Martin Rentsch (@MartinRentsch) September 1, 2016
Live updates from our Insiders team