EU, Cuba move to mend ties after Fidel Castro's death
Comments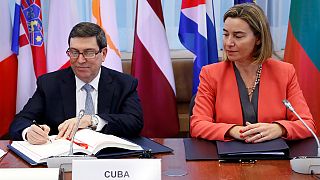 The EU and Cuba agreed a deal on Monday to normalise ties as Brussels softened its stance on human rights in the Latin American country following the death of long-time leader Fidel Castro.
EU governments decided last week to scrap a 1996 policy that closer cooperation with Cuba would only be possible once the government does more to improve human rights there.
European Union foreign affairs chief Federica Mogherini signed the agreement with Cuban Foreign Minister Bruno Rodriguez Parrilla; it follows years of negotiations.
"The relationship between Cuba and the EU, fortunately, doesn't go through Washington," Parrilla said.
"Economic links with Europe will continue to be a priority for Cuba as we build a socialist economy."
"Cuba is changing deeply and the EU is going through this process along with the Cuban government and the Cuban people as friends. That is a common opportunity to boost sustainable development, social justice in order to enhance democracy and the respect of human rights," said Mogherini.
Castro died last month after more than five decades in power. His passing came at a time of a thawing of relations between Washington and Havana, although the US still has its economic embargo against Cuba in place.
In 2003, the EU had imposed sanctions on Cuba and suspended cooperation over a crackdown on journalists and activists and it took until 2008 to get talks going again.