Ukraine is ready for visa-free travel, says EU
Comments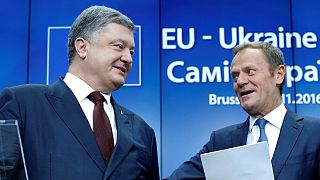 Ukraine is ready for visa-free travel – so says the European Council's Donald Tusk.
He was speaking after the 18th EU-Ukraine Summit in Brussels, attended by President Petro Poroshenko.
The EU has been dragging its feet over lifting visa restrictions.
"I am happy that all EU member states decided Ukraine is ready for a visa-free regime," said Tusk, President of the European Council.
"This decision is a recognition of Ukraine's achievements in meeting European standards."
But there is still no date for the visa liberalisation – details, officials say, still have to be agreed by EU institutions.
Germany and France have also been hesitant, both facing elections next year in which anti-immigration feeling will be a burning issue.
Poroshenko commented: "European leaders under very severe attack on their principles, by populists, by nationalists, by eurosceptics and by Russians."
The summit came three years after a pro-EU uprising overthrew Ukraine's pro-Russian president.
And while there was public praise on Thursday for Ukraine's reforms since then, there appears to be frustration behind the scenes – with the fight against corruption viewed as being too slow.
Poroshenko was expected to be told to do more to earn closer relations with the bloc.
Meanwhile, the EU has signed a new memorandum of understanding with Ukraine on energy. It is said to be all about boosting work on issues such as efficiency and renewable energy.
The EU wants Ukraine to remain a transit country for gas.
Russia has strived for years to sell more of its gas to Europe, but bypassing Ukraine.