EU leaders call for halt to Turkey membership talks
Comments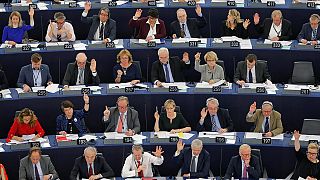 The leaders of the European Parliament's two largest groups have called for the EU to halt membership talks with Turkey because of its post-coup purges.
"Our message to Turkey is very clear: accession negotiations should be frozen immediately," said Manfred Weber, the head of the largest faction in the European Parliament, the centre-right European People's Party.
He was echoed by Gianni Pitella, the leader of the socialist group, the parliament's second biggest, who said: "We want to freeze the accession talks."
In the wake of Ankara's post coup crackdown, the message is human rights and democracy are non-negotiable, if you want to be part of the EU.
Turkey's President Recep Tayyip Erdogan has said the EU will have to "live with the consequences" – if the decision is taken to stop the talks.
The bloc's top diplomat, Federica Mogherini, urged caution.
"If the accession talks came to an end I believe we would both find ourselves in a lose lose scenario," she said.
More than 125,000 people in Turkey have been suspended or dismissed over July's failed military coup. Some 36,000 have been arrested and media outlets closed.
Kati Piri, the rapporteur for Turkey at the European Parliament, commented: "Whatever it might happen I think it's our duty as members of this parliament to speak out when our colleagues are in jail, on 145 of your colleagues are in jail and where 10 thousands of people are affected without any form of legal remedy."
The EU had promised to speed up Ankara's EU bid talks in exchange for help in keeping migrants back. But while there's still cooperation, the fear is it could eventually fall victim to spiralling recriminations.