Barroso cleared by EU ethics probe over Goldman Sachs job
Comments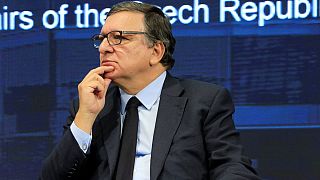 A European Commission ethics panel has cleared former president Jose Manuel Barroso after he accepted a job with Goldman Sachs.
Officials said Barroso did not break any rules when he accepted the role of non-executive chairman at the US investment bank.
The panel did say, however, that the ex-Portuguese premier failed "to show considerate judgement".
Commissioners have an 18-month cooling off period before they can join the private sector.
But Barroso's appointment still sparked uproar as the bank was widely involved in the sale of toxic mortgage products, that sparked the 2008 financial crisis.
Goldman also helped Greece to mask the true extent of its debts.
Barroso left the European Commission on October 31, 2014; his new advisory role was announced in July of this year.